Appetizers
Chips & Salsa— Our own homemade chipotle salsa
Garlic Hummus—served with pita.
Spicy Hummus—Hummus made with spicy scotch bonnet sauce, served with pita
Chili—our famous vegan chili
Nachos—made with our famous vegan chili, with cheese (not so vegan) over chips
Sandwich Board
Make a sandwich with any of our regular cheeses, fresh tomato, lettuce, choice of mustards, may or Russian dressing on pita, rye, or french bread.
Mesquite Smoked Turkey Breast
Corned Beef
Hummus
Cheese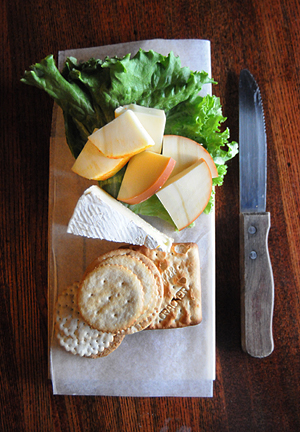 Raw Bar
featuring local and imported oyster (especially Chessawanocks) and Ahi Poke.
Friday, Saturday 5-9 only
Specialty Sandwiches
Rueben
our homemade secret recipe corned beef with sauerkraut and russian dressing on rye
Southwest Chicken sandwich

specially seasoned diced chicken breast with melted cheese over our chipotle salsa on french bread.
Jerk Chicken
Diced chicken breast marinated in our homemade jerk sauce (made by actual jerks!). With mango when available.